This is a book store that I pass on my way to classes. It has ALL the Harry Potter books.


The Cloisters Apartments. Really, it looks like a church, but it's flats. Notice all the lovely phone booths. Sigh, I forgot they were there, so I didn't walk that direction when I was looking for a pay phone this evening.


The entrance to Senate House, where all my classes are.


Don't look at the big letters, look below them. That's Uncial.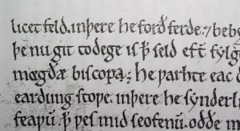 This is Carolingian-ish Anglo-Saxon. (Mushed with Uncial.)


The C & P marks from Harley 913. (The manuscript I'm doing my thesis on.)